Experience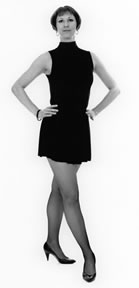 Sarah Billings Wheeler, Dancer and Dance Instructor in NYC  From private studios to professional dance training centers to public schools, Sarah Billings Wheeler has brought dance to a wide range of ages and experience.
Education
MFA – Dance, Creative Practice, Saint Mary's College of California
MA – Dance Education, Higher Education, New York University
BA – Barnard College
YogaWorks – 200 hour certification
Language of Dance® Certification – Module I
Choreography
Sarah has taken on a number of freelance dance choreography projects in her career, from 1920's themed productions to recital routines to choreography for short films and videos.  She welcomes projects of all kinds and uses her experience in a variety of dance styles to create work that engages the viewer.
Private Dance Lessons and Classes
Sarah Billings Wheeler can set up a customized dance program for you in a variety of styles. From a one-lesson tune-up to regular weekly sessions, Sarah can work with your schedule. She often teaches small dance classes for a performance, as a reward for a job well done, team building exercises, or just a bunch of folks who want to get together and have fun!
What Dance Means to Me
"I am attracted to staging dance in public spaces without formal boundaries between performer and viewer.  Away from the traditional proscenium stage, the roles of audience and performer become less defined and by sharing the performing area, neither viewer nor performer are of greater importance.  Through my work, I am continually exploring how humans connect and disconnect through their daily spatial interactions."
Sarah Billings
Next Steps… Take a Lesson!
Sarah hosts many classes and private lessons for a variety of dance styles. Give her a call to start today!