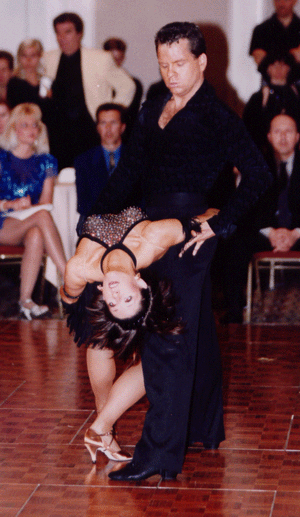 Sarah Billings Wheeler, a dance teacher in NYC, has taught in a variety of settings, such as private studios, professional dance training centers and public schools.
She teaches a wide range of social dance forms from, the Waltz to the Hustle, as well as the competitive American Style Smooth & Rhythm dances and International Style Ballroom and Latin dances. Going Baroque? She can customize the choreography for your Wedding Dance.
Social Dancing Instruction:
Foxtrot
Waltz
Tango
Rumba
Cha-Cha
Salsa/Mambo
Swing
Hustle
International Dancing Style
American Smooth Dancing Style
Wedding Dance Choreography
Dance Technique Instruction:
Modern (Limón & Hawkins), Jazz and Ballet
Yoga: Blended Astanga and Iyengar.
Dance Teacher Training:
Sarah believes strongly that quality dance pedagogy will help students enjoy their dance experience.  She has worked with the teaching staff at major Dance Studios and has mentored Dance Educators and others in her career with the NYC Department of Education.  With her background in a variety of dance styles, somatic education, and experience with Laban Movement Analysis, Sarah can provide training experiences for dancers of all levels (from recreational to professional).  Contact her about professional development workshops for your teaching faculty.
Specialty Dance Workshops and Lectures:
International Latin Technique: Hip action in Rumba and Cha Cha.
Ballroom & Smooth Technique: Release exercises for better foot, ankle and knee usage.
Sharing weight: Explorations of how weight and momentum create dynamic partnering.
Sign Up Now!
Email Sarah to find out current available time slots and pricing.